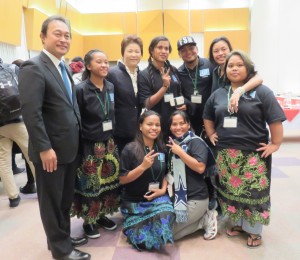 Ambassador John Fritz was invited to a farewell reception held at the National Olympics Memorial Youth Center in Tokyo where he met FSM students from COM and University of South Pacific who came under the JENESYS2015 Pacific Islands Group 4.
The seven (7) FSM students were part of the Theme Course A : Japanese Language of JENESYS, and together with over 40 other fellow students from the Pacific, had successfully completed a week long program. According to their schedule, they took part in school exchange, disaster prevention programs, home stay, various study tours, among other events.
The JENESYS is an ongoing program focused on student exchange which is implemented by Japan Overseas Cooperative Association (JOCA) of the Government of Japan. As a part of the outcome of the Pacific Islands Leaders Meeting (PALM) held every three years in Japan, the JENESYS Program has extended invitation to the Pacific Island Students.
Participants of the JENESYS2015 Pacific Islands Group 4 are as follows: Ms. Richynne Chenae Gallen, Ms. Lynnsey T, Sigrah, Ms. Evangeleen E. Albert, Ms. Dorothy R. Sigrah, Ms. Jayaceleen J. Joston, and Mr. Jomer Manongsong.